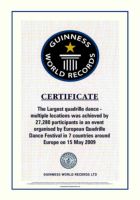 Quadrille is historical dance, which is dancing in foursomes. The project was launched some years ago in cooperation with the Slovene National Dance Association, Slovene dance studios, secondary schools, and municipalities. The Slovene National Dance Association regards the project of large-scale socialising of graduates as a "jump across dimensions", since no other sports or cultural organisation has ever achieved something similar in working with the young.
Soon Hungaria, Croatia, Austria, Serbia, Czech republic and Slovakia join the project to achieve the Guinness world record in synchro-dancing.
Dance club SVITAN and town Svidnik join the project in 2009. There were 244 dancers on 15-th May in Svidnik´s square.
The project was submitted for entry into the Guinness World Records and we achieved the big success in 2009. The Guinness comisars accept the new Guinness record in Quadrille dancing which was realized by 27 280 dancers in Europe. We got the Guinness certificate, which we are proud of.


Join us on 21-st May 2010!!!
Clip created by Video Studio MB - Marek Biskup