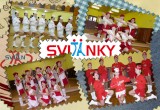 Svidnik town's majorettes or Majorettes Svitanky is a group of girls from 5 to 20 years old who are pretty, clever and skillful to present the majorettes sport on the stage. There are up to 40 girls in Majorettes Svitanky and they train in four group according to age: The Sweethearts (from 5 to 7 years old), The Princesses (from 8 to 10), The Duchesses (11 to 14), The Queens (up to 15).
The group of majorettes started to work in 2001. The girls had the first performance on the 1-st of May 2002. From that time they absolved many performances in Slovakia and also abroad: Poland, Czech Republic and Ukraine. The girls also take place in regional dance and majorettes competitions.
The head trainer and the choreographer is Mgr. Viktoria Husarova, Dip. Dance teacher: "We are not the best majorettes in Slovakia, but we train with a heart and soul and we are really good!"
The girls are very skillful and according to very special creativity of the choreographer they have made very beautiful and interesting choreographies as for example: In the wind, The Flower generation, The Flinstones, The Luxury Life, Zorro girl, Flamenco, Baywatch safeguards, etc.
Svitanky are members of International Majorettes Association (IMA).
Clip created by Video Studio MB - Marek Biskup - 2010